The first post of our new blog is bound to tell nothing other than the story of the heaviest, most expensive and most important item of our studio – our beloved Studer 990 mixing console.
One day, in the midst of our typical ad browsing :)) on the eBay Kleinanzeigen page, we came across a post in which this desk was for sale. At the time, we had a smaller, but similarly "colourful" piece of technology, in the form of a Studer 963, as part of our studio. It had served us well for a few years, but a desire to have something more "adult" in the studio had been in the back of our minds for quite some time. We required no further impulse and, after a quick email exchange, got in the car, heading for Berlin. 
Candy Bomber Berlin welcomed us with Ingo Krauss, its owner and an all-out charming person. Immediately recognizing our sense of appreciation for the vintage equipment surrounding us, he willingly showed us around his very own truly unique collection of an as-new 50-year-old Telefunken tape recorder, two Neumann 50s mixer desks, a Deutsche Grammophon desk (1958) with Siemens V76, Rohde & Schwarz compressors, WSW and many other unique vintage preamps, microphones, etc., all of which we talk about to this day. 🙂
An introduction to the Studer 990 followed. One look and it was clear we'd found the new heart of our studio. 
The desk was in beautiful condition and Ingo knew its whole history. It had initially belonged to the German national theater, Deutsches Nationaltheater, and Staatskapelle Weimar. Of 3 Studer 990 desks, Candy Bomber had bought two (one for Control Room 2 and the other for spare parts), while the third was purchased by a recording studio in the Netherlands. To our surprise and amazement, we discovered there to be not only our Studer 990, but an entire desk of spare parts to go with it!
After some time, Ingo also revealed to us the sad reason for the sale. The colleague with whom he had founded Candy Bomber and amassed their collection of historic German technology had sadly passed away. The second control room had not been used for a while and it was time for its contents to be sold off. 
On our way back, we thought over the transport in detail. "The Studer 990 is modular and we have all the spare parts," we thought to ourselves, "How much better can it get?!" Looking back, it would have been impossible to evaluate just what a challenge it would be to get the desk on our floor. 
Our plan began with persuading some unsuspecting friends to go out on a trip. They'd see Berlin, the old airport, and then a unique collection of vintage audio equipment. That was the last trip they'll ever go on with us, we bet. :)) 
In two days, we were re-entering Berlin. It was about 8 o'clock in the morning, and the most complicated part of the Studer 990 mission was before us. 
We began to disassemble the desk, wrapping each module in antistatic film. Only the disassembly took a full 7 hours. Everything was carefully photographed and painstakingly described to ease reassembly. When we thought we were done, and that the desk could be loaded into the car, we found it wouldn't fit.
When we thought we were done, and that the desk could be loaded into the car, we found it wouldn't fit through the door, and so another two hours were spent investigating how the desk was ever brought into the room. The solution finally presented itself, and we further dismantled the frame to access hinges on the fader section – designed to aid in transport. Another two hours down…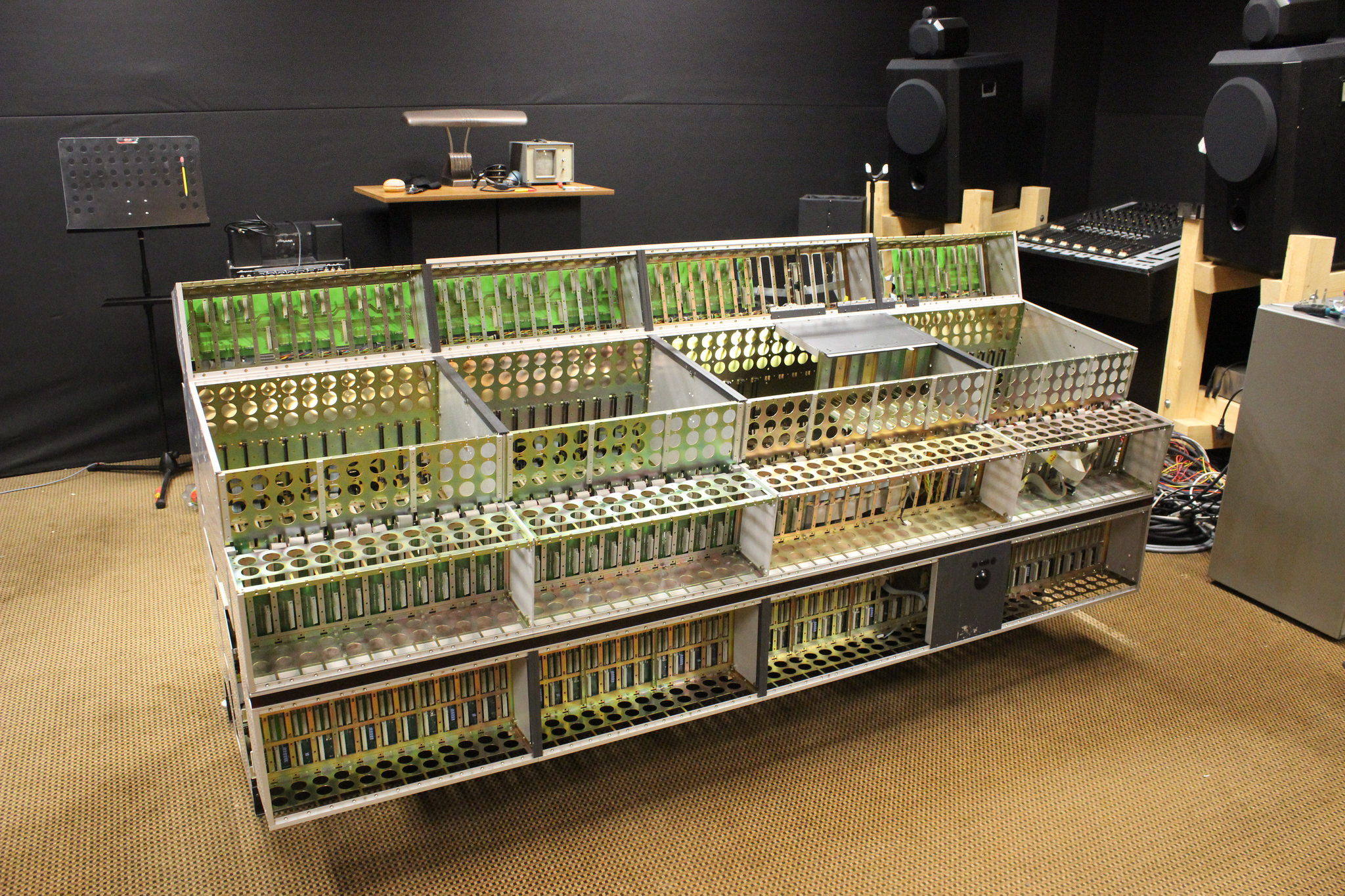 That was all complete and relatively easy – what followed was the next level. The studio being located on the second floor, it was necessary to carry down the frame by hand. Fortunately, we managed this as well, despite the fact that it looked impossible for a while. The double "U-turn" staircase and its tiny landing presented another complication resolved by carrying the massive frame held vertically – a feat which we would rather not repeat. The frame was later found to weigh a nice 220 kg. 
14 boxes of modules and parts, 6 sources and a computer were added to our load and we were off. The loading process had taken 14 hours!
After assembly, our Ghielmetti patch needed to be connected. The entire connection was secured by Siemens Messerleiste multi-pin connectors. Since cabling was not part of the deal, it became our job to make it ourselves. After much searching, we were able to track down 16 Siemens Messerleiste connectors cut off during an installation. This set us back 100 CZK per piece, but sufficed for a complete connection (without tape send and returns at present – perhaps at a future time in combination with a multichannel tape recorder… :)) We warmed up our soldering irons and set to work for the next 3 weeks creating the necessary wiring and patch connection. This was followed by the connection of converters, sources and the PC in the machine room. Our work was rewarded as the Studer worked without any problems on its very first start.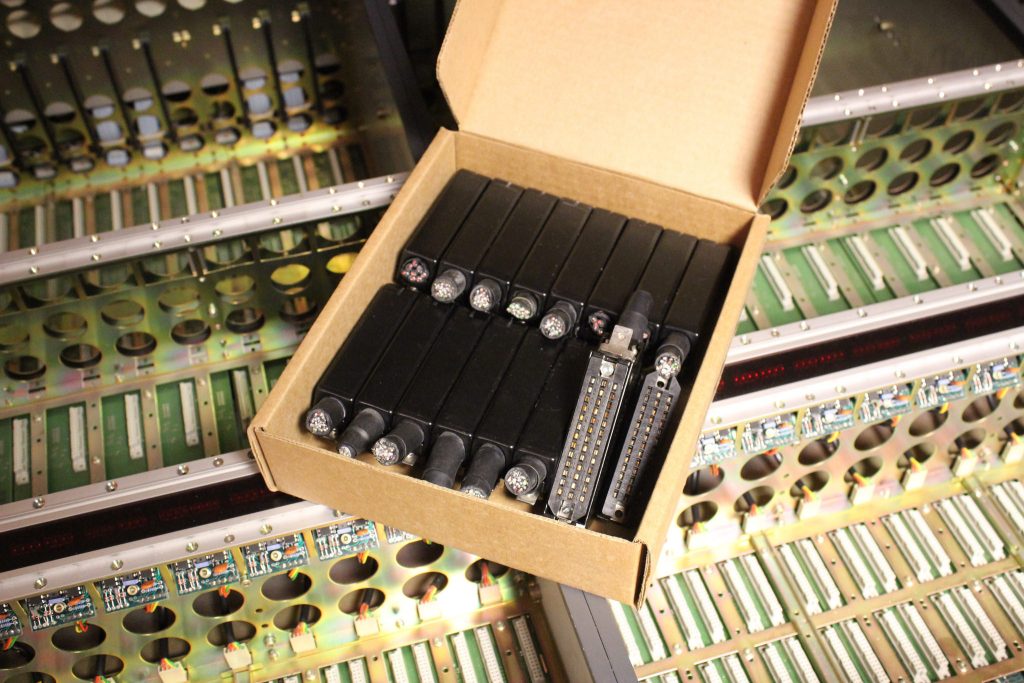 The desk is connected to a PC which controls automation, Total Recall, and timecode. Its configuration is as follows: Cyrix 386DX, 4MB RAM, Matrox GPU with an IDE disk. Directly in the desk there was also a SCSI disk for storing something (we haven't found what yet, but without it the desk doesn't boot properly). It produced a lot of noise (very impractical for any kind of mixing), :)) and so we replaced it with an "SCSI to SD" adapter from amigastore.eu, eliminating the noisy disk in the desk. We also ordered an "IDE to SD" adapter from China, replacing the IDE disk in the PC, so everything happily boots from SD cards now. The desk boots up in about 30 seconds, which is longer than with the SCSI disk, but the new configuration is now guaranteed to work for decades and especially quietly… :)) 
Complete documentation, along with service manuals, were also included in the purchase, so future problems will be easier to repair.